Ever leave the slopes with numb toes, wishing you could still enjoy the majestic views but you're too cold and hungry? Maybe you could grab a mediocre, overpriced burger and beer in the lodge? Naw. It's chaotic and you're tired of the dingy atmosphere. So you decide to just head home and grab fast food on the way.
Um, no. Not at Blue Mountain Ski Resort in Palmerton, PA.
A ski resort dedicated to providing unforgettable experiences for adventurists, Blue Mountain recently upgraded its Slopeside Pub & Grill to better serve their guests and increase revenue. After a day of adventure in the cold, what could be more inviting than on-mountain dining where there's warmth, food and cocktails aside two beautiful custom gas fireplaces?
Check out these two new custom gas fireplace beauties we recently completed with Acucraft Fireplace Systems and Serfass Construction at Blue Mountain Resort in Palmerton, PA. ENERVEX provided high-efficiency chimney fans and damper controls for the solution, which included:
A custom gas indoor/outdoor glassed-in fireplace connecting the restaurant's interior and patio dining areas: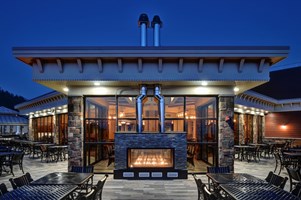 And a gorgeous three-sided, custom gas peninsula open fireplace to grace the restaurant interior: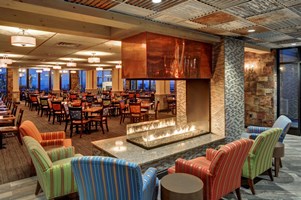 Each custom fireplace delivers up to 100,000 BTUs and a gorgeous, functional space that allows the resort to serve tourists comfortably, any time of year.
Download this case study to learn more about the project, or view more residential and commercial venting projects here.