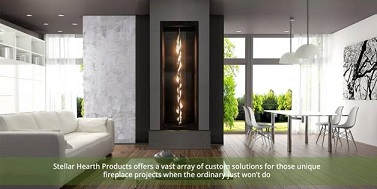 Stellar Hearth and ENERVEX Combine Artistry with Operational Excellence
A residential job in Seattle required an attractive custom fireplace design. Stellar Hearth Products designed and manufactured this gorgeous vertical spiral fireplace, which uses an ENERVEX chimney fan and mechanical fireplace damper system to ensure efficient, flawless operation.
Using the most innovative materials and techniques, Stellar Hearth's design engineers love the challenge of seeing how far they can stretch the limits to get unique looks. This job was no exception.The fireplace looks great, while delivering smoke-free, low-maintenance draft control.
Completed in 2018, the installation uses ENERVEX's RS016 chimney fan and MFD mechanical fireplace damper. The RS chimney fan is engineered for efficiency, low noise level, low energy consumption, and variable speed in a compact design. This EcoDamper System is used to maintain perfect draft in the chimney, while shutting off and closing the damper when the appliance is not operating – thus saving substantial energy and fuel costs.
Learn more about the ENERVEX RS chimney fan for your next custom fireplace design or contact ENERVEX now.