Ever had a Manny's Pale Ale? It really is "Darn Tasty Beer," as they say – clean and smooth, made possible by Georgetown Brewing Co. in Seattle.
Now to most people, it probably doesn't matter HOW that beer gets clean, or what goes on operationally in the boiler room. As long as it gets into your belly, right?
To the folks who own Georgetown and pay the power bills, the operational details matter. A lot.
As more people began to discover that Manny's (along with a few other Georgetown brands) truly are 'darn tasty,' the booming success of the brewery prompted the need for an energy-saving solution. A new boiler seemed like an inevitable purchase. But after speaking with Contractor Hermanson Corporation and ENERVEX Rep Mechanical Sales, Inc., they learned how much a heat recovery solution can save, without the high cost of a new boiler.
We put our heads together and in 2012 introduced a heat recovery solution alternative which saved Georgetown 2,600+ Therms and $2,098 annually, with payback in 2.5 years. The solution included an ENERVEX VHX Economizer and Heat Exchanger with high-efficiency fans and modulating pressure control.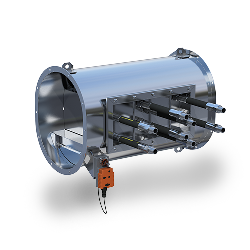 How much can a heat recovery solution save for you? Given that fuel costs make up 96% of your boiler room's operating costs, on average, and that 10-20% of energy input is lost in the form of heat escaping to the atmosphere – you should definitely call us today: (800) 255-2923. We can help you understand how an ENERVEX heat recovery and fan solution routinely cuts fuel requirements by up to 10%. We'll raise a toast to that!
Learn more in this case study or check out our Economizer and Heat Exchanger products and fan solutions now.