ENERVEX chimney fans, dampers and draft control products played a supporting role in HBO's hit series Westworld, as part of a panoramic gas fireplace project with Acucraft Fireplace Systems.
The scene took place at the Indigo Hotel Los Angeles's Prohibition-themed, top-floor cocktail lounge - 18 Social - a perfect spot for the show's dark, sultry atmosphere. Dancing flames can be seen coming from an Acucraft custom panoramic fireplace in Season 2, Episode 2: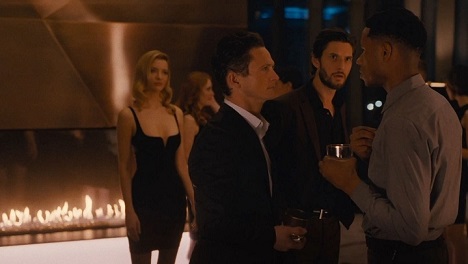 Designed by Hirsch Bedner Associates and Webcor Construction, and completed in 2016, the Acucraft custom panoramic gas fireplace was conceptualized as a "modern interpretation of 1920s aesthetics." Its custom design/manufacture features glass-on-glass corners, glass cooling, and the tallest flames on the market!
ENERVEX chimney fans, dampers and draft control products were selected to vent the panoramic gas fireplace, including an Exhaust Power Vent with Proven Draft Safety System:
In addition, we provided glass cooling via:
Now that filming with Talulah Riley, Ben Barnes and other Westworld stars is over, 18 Social is now open for public enjoyment. Find the complete fireplace specs and detailed design drawings on the Acucraft blog.