Engineers and contractors who use a field-fabricated grease duct to cut corners in restaurant kitchen venting are not thinking logically about cost in the long run. Factory-built chimney and grease duct systems have clear advantages over field-fabricated products in nearly every area.
Here are five game-changing advantages of a factory-built grease duct over field-fabricated products for kitchen exhaust applications:
1. Less Business Interruption.
Field-fabricated grease ducts are welded, carbon steel construction products proven to cause frequent and severe fire damage. When this happens, these grease ducts must be rehabbed or replaced. The owner must shut down operation, inspect and replace damaged fire wrap or other enclosure. Cutting torches and other devices must be brought in to remove and clean up the old system. Further downtime and expenses are required to fabricate and install a new system with fire protective enclosures, followed by a multi-step, multi-inspection process. With field-welded grease ducts, you can typically expect an average of three or more inspections.
Even just a small fire can cause distortion or sagging of welded ducts, putting a restaurant or business out of commission for weeks or months.
When there's a grease fire in a factory-built grease duct, you simply inspect and replace sealant at the joints as necessary. Recovery time is dramatically shorter -- just days in most cases. Even in a bad fire, it's extremely likely that a factory-built grease duct will survive for further use, even after catastrophe. Definitely not so with field-fabricated products!
2. They're Safer.
While field-fabricated grease ducts do not require UL listings, listed grease ducts give you the safety and peace of mind you need. Deposited grease is highly combustible and poses a severe fire hazard. If the duct is not liquid-tight, grease could migrate to the exterior where it builds up or drips, extending the fire hazard to the outside of the duct and its surroundings. Here is where shape matters.
Field-fabricated ducts are usually rectangular in shape. In contrast a factory-built grease duct, according to its listing, has a cylindrical shape with a built-in slope.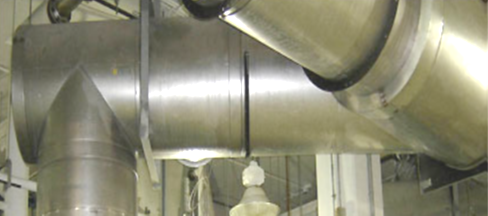 This slight slope and round walls enables a much greater flow capacity (less resistance) for kitchen grease to pool. As soon as buildup begins to occur, the grease tends to run down and settle at the single lowest point. The grease drains through a smaller area in the middle at the lowest point, minimizing build-up and allowing the grease to flow to where it can be safely handled, stored or removed.
In sharp contrast, a rectangular field-fabricated product of the same square footage has a bigger opportunity for grease to pool side-to-side, thus creating a MUCH greater risk for fire. It's important to note, however, that slope itself will not prevent build-up.
Knowing that your factory-built grease duct is required and proven to take the heat makes code inspections less painful and kitchen exhaust operations safer. People believe a field-fabricated product gets you out of the high standards for which factory-built grease ducts are accountable; but these products must still pass a special light test to ensure zero leakage in the welding. This means multiple inspections (again, more business downtime – not to mention added risk for the engineer).
UL Listed factory-built kitchen grease ducts such as the ENERVEX Powerstack are thoroughly tested and proven to comply with ANSI/UL1978, the standard for kitchen hood exhaust. They carry multiple safety listings and are code accepted by IMC, UMC, CMC and NFPA96. All of these institutions acknowledge and permit factory-built grease ducts listed to UL1978 and UL2221 at extremely high temperatures, which is a very real possibility in most restaurant kitchens.
A listed grease duct must pass strict safety tests including:
Clerance-to-combustible testing and determination
Construction and durability testing
30-minute internal fire test at 2000°F (UL2221)
Thermal testing for 0" clearance to combustibles (UL2221)
Overall integrity of entire mechanical assembly (joints, access doors, fittings); no drips or leaks allowed
At the end of these tests, listed grease ducts must be determined "suitable for further use." No buckling, bowing or distortion of the duct is allowed, and insulation must be undamaged. Factory-built grease ducts are virtually heat proof, decrease corrosion significantly, and eliminate kitchen grease deposition for optimum safety. Most kitchen hood exhaust duct manufacturers also throw in a free multi-year performance and leakage guarantee on the duct. If they do not, there's probably a reason.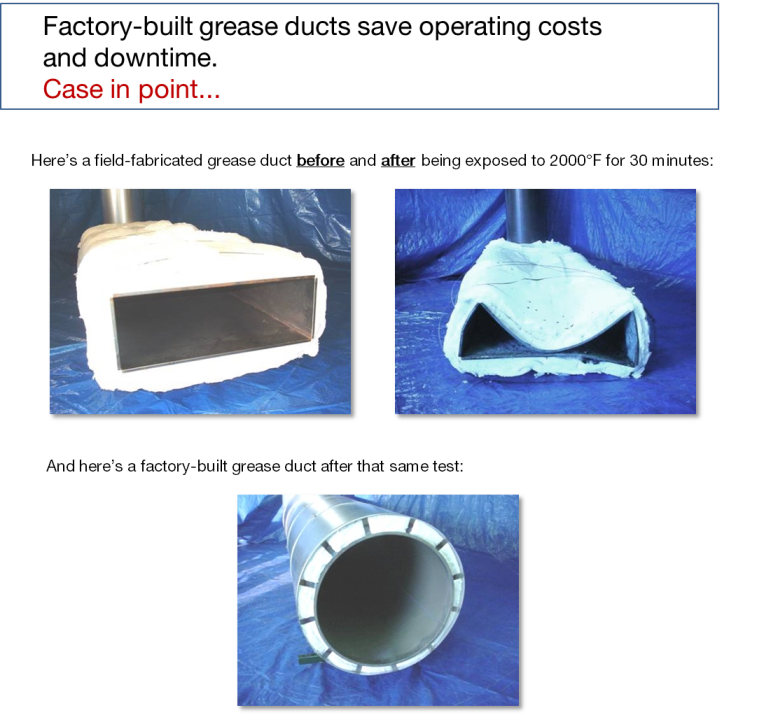 3. Easier Installation and Maintenance.
Factory-built grease ducts make your job easier. You can install them in segments thanks to their modular design, and the 'no-welding' construction affords more wiggle room in how the kitchen hood exhaust duct is installed. No squeezing into tight spaces to weld or to manually add fire wrap to a pipe. You can clean, inspect and rehab an existing system very quickly during off-hours -- which is big advantage for retrofit projects.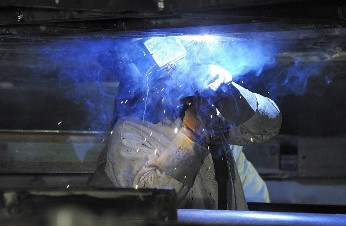 In addition to the no-welding advantages, factory-built grease ducts are easier to work with because they:
Have reduced clearance to combustibles, even 0" for some versions
Offer a full line of specialized parts (access doors, nozzle sections, grease dams, transitions, fan adapters, etc.)
Are lighter weight, easier to clean, and require cleaning less often
Available in multiple versions: single-wall, double-wall air insulated, 2-wall fiber insulated (dozens of different diameters)
Eliminate the need for a separate fire-rated enclosure; 2-hour fire rating
Come with complimentary grease duct sizing and ACAD layout assistance
4. More Cost Effective.
It's sad to think about, but between 2006 and 2010 U.S. fire departments responded to an estimated average of 7,410 structure fires per year in eating and drinking establishments. These fires caused average annual losses of three civilian deaths, 110 civilian injuries, and more than $165 million in direct property damage per year*, according to the NFPA.
Three out of five of these fires involved cooking equipment, and fires in grease ducts were a major contributor to that total. The risk for costly mishaps and inspection surprises is significantly lower with factory-built grease ducts.
Why? Think about the many variables... When a field-fabricated grease duct is built, the welding is done by hand. You're relying on the skill and experience of the welder, quality of the welding gear, and the skill and expertise of the inspector. On the flip-side, the bulk of factory-built ducts is done by automated machines. It's very precise. Certain components are TIG- or MIG-welded in a controlled factory environment. These kitchen hood exhaust products then undergo rigorous testing to ensure zero tolerance for air and moisture leaks at the joints, thus reducing the risk of costly fire disasters.
I noted earlier that field-welded grease ducts have been proven to collapse very easily in high-heat situations. Most factory-built grease ducts, on the other hand, can withstand a long and severe grease fire and still be "suitable" for re-use. Following a grease-fire situation, all you have to do is inspect the system, possibly replace the chimney joint sealant, and turn business right back on. Don't know about you, but I'll re-use equipment before replacing it ANY day!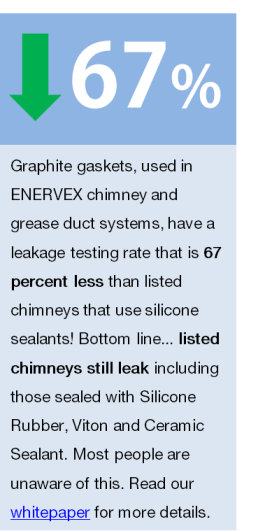 While we're on the topic of chimney joint sealants...
Some factory-built grease ducts use Silicone to seal the grease duct. While this can reduce downtime to just a few days for inspection and replacement, Silicone sealant disintegrates over time, causing joints to leak and grease to spill. There's an even better option -- Graphite-sealed grease ducts.
Regardless of which listed product you choose, factory-built grease ducts save money and reduce environmental impact by using less exhaust fan energy. Where would you rather invest your money?
5. And Finally, They're Prettier.
Field-fabricated grease ducts most often have a rectangular cross-section requiring a minimum 18" clearance to combustibles and a minimum required slope of ¼" per foot (or more) for horizontal applications. They often require protection with a Fire-Rated shaft or other Fire-Rated enclosure system such as a Fire Wrap to comply with building and fire codes. These factors really limit the aesthetic beauty of your commercial kitchen design.
Factory-built ducts are UL Listed and labeled for use at reduced clearances, even 0" for some versions. It's very typical for factory-built grease ducts to require up to 10" less headroom than the typical field-fabricated grease duct. Their 316L-PCM stainless steel inner lining and 304 stainless steel outer wall construction not only looks very nice, but also keeps equipment alive longer, helps systems perform more reliably, and ensures safe occupancy.
Aesthetics matter now more than ever. Especially in the restaurant industry, for example, where the trend is to turn the kitchen into the focal point of the dining room. ENERVEX VP of Sales Christian Hagensen explains following NAFEM 2017:
If you want a grease duct product that is truly more reliable, safer, cost effective, simple to install, and aesthetically pleasing for end-users, ONLY specify a factory-built chimney and grease duct system. Learn more about these products and the ENERVEX Powerstack Chimney and Grease Duct System or contact ENERVEX today.
*Source: NFPA Report (Feb 2017): "Structure Fires in Eating and Drinking Establishments"